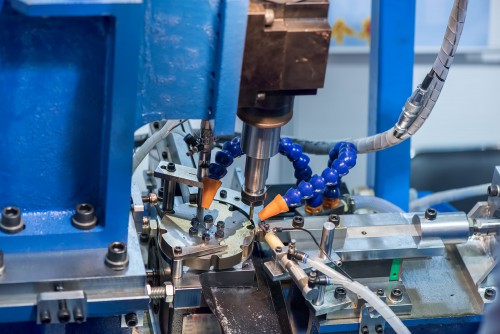 Custom components are standard here at U.S. Swiss. Our team can assist you in nearly all aspects of your project application, including types of material, heat treating, plating and many others aspects to increase production and achieve total form, fit and function of your custom machined components.
From small quantity prototypes to full production runs, U.S Swiss is here to get your project up and running as soon as possible.
For more information on Swiss machining, Micromachining and Custom machining or if you'd like to discuss you project challenges and requirements, contact us or send a request for quote.
Machine Capabilities
Equipment & Capacity

8 Star CNC Swiss 3, 5 and 7 Axis
.005  to .787 Dia. Capacity
Up to 12' long

Tolerance  Capabilities

± .0001

Production volume

10 to 250000 pcs

Lead Times

3 to 4 Weeks (standard)
Schedule deliveries per customer requirements
911 and rush deliveries

CNC Swiss Capabilities

Swiss Turning
Cross Drilling
Cross Milling
Parting/Cutting
Facing
Contour Turning
Form Turning
Taper Turning
Straight Turning
External Threading
Internal Threading
Shoulder Facing
Necking
Internal Forming
Drilling
Knurling
Boring

Materials Machined

Titanium
Stainless Steels
Cold Rolled Steel
Inconel
Hastelloy
52 Alloy
Kovar
Thermocouple Type J, K, E, T, N, B, S, & R
Copper & Brass Alloys
Aluminum
Plastics

Advantages of CNC Swiss

Small Complex Precision Parts
Long Cylindrical Parts
Tighter Tolerances
Smoother Surface Finish

Second Operations

CNC secondary lathes
Levin lathes
Various small mills
Drill presses
Burr-less cross drilling machines
logo & material stamping devices
Finishing de-burring, cleaning machines
Microscopes
Optical comparators

Industries Served

Medical
Aerospace
Military
Automotive
Hydraulic
Electrical
Pneumatic
Power Transmission
Custom Fasteners
Engine Components
Fire Suppression
Oil and Gas
Mining
Agricultural
Truck
Heavy Equipment
Appliance
General Industrial

Value-Added Services

Design
EDM
Plating
Powder Coating
Heat Treating
Thread Sealants
Etching
Engraving
Part Marking
Warehousing
Fulfillment
Assembly
Kit Building
Crimping
Bending
Polishing
Welding
Brazing
Inspection
Packaging